Why should you or your child have to choose between a crooked smile or a mouthful of metal braces when you can opt for Invisalign instead? Realign misshapen, crooked or crowded teeth with the clear unobtrusive look of virtually invisible aligners.
It's never too late to have the smile of your dreams, and our passion is to provide the quality dentistry you need to make it happen. We realize that getting there with traditional braces can be a source of embarrassment, robbing you or your teen of the confidence you both deserve.
Clear Alternative to Traditional Braces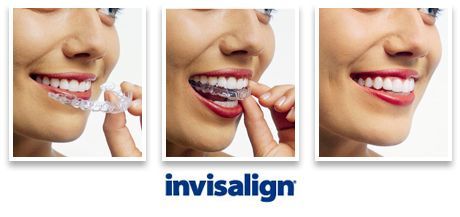 Invisalign is the subtle yet effective alternative that will gently guide teeth into alignment. Because they are clear, and can restore teeth to their proper alignment in as little as six months to one year, Invisalign aligners are the clear alternative to traditional braces.
Invisalign aligners are removable too, so your oral hygiene is more convenient. Brush and floss more easily, and you can remove the aligners quickly for eating to avoid trapping food particles.
Invisible/Clear Dental Aligners
Dr. Qureshi will consult with you and give your teeth an exam to determine if you are a good candidate for Invisalign. Once we have agreed that you are ready for aligners, your teeth will be prepped for your Invisalign treatment. We will fabricate your Invisalign tray which will gently guide your teeth into alignment.
Your Invisalign aligners will provide you with a more comfortable alternative. No irritating metal protrusion on your gums, lips or cheeks. Your teeth will align with fewer office visits, and most patients experience an overall faster track to the smile they want.
Contact us today for a consultation or schedule an appointment online to find out if you are a good candidate for Invisalign aligners. We are excited to help you achieve the straight and healthy looking smile you have always wanted, invisibly and affordably.