Arlington VA Teeth Whitening
Regular brushing and flossing are an important part of your oral hygiene, but they can't always offset the effects of aging and other factors which can dull your teeth. Discoloration tends to accompany age, and certain foods and beverages can leave unsightly stains on the enamel of your teeth that simple brushing and flossing just cannot remove.

Your oral care treatment should include regular checkups and cleanings, and to really bring out the white smile you want, there is no substitute for a professional teeth whitening treatment. Our whitening treatment is an effective, affordable and painless procedure that will reverse the effects of aging on your teeth, and clean those nasty tobacco and coffee stains that have robbed you of self-confidence.
A professional tooth whitening treatment is just what you need to give you that boost of confidence ahead of a job interview, big date or a class reunion. Regularly scheduled office visits for teeth whitening will keep your teeth looking bright and healthy for years.
ZOOM! Professional Teeth Whitening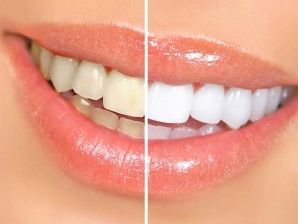 Dr. Qureshi proudly offers ZOOM! Teeth Whitening for our patients in Arlington, VA. In just a single one-hour visit to our office, your ZOOM! Teeth Whitening session will give your teeth a brighter set of teeth by up to seven shades.
Your teeth can be either a source of pride or embarrassment. When your smile isn't all it could be, it impacts your confidence, which in turn can even affect your quality of life. You deserve to be able to smile when you're happy, instead of self-consciously stifling your smile or covering your mouth. Your smile just needs the gentle and simple care of Dr. Qureshi's ZOOM! Teeth Whitening Treatment.
ZOOM! Teeth Whitening is a great choice for patients who experience high sensitivity to ordinary teeth cleaning procedures. It is a safe solution that delivers lasting results in just one visit. Contact our office today to schedule your smile consultation with Dr. Qureshi and find out more about ZOOM! Teeth Whitening.