Dentist in Bailey's Crossroads Alexandria VA
Dr. Faran Qureshi is the dentist you can trust for your entire family in Bailey's Crossroads. We treat children through senior adults with a full range of family dental services. Whether you want to enhance your smile or maintain the health of your teeth and gums, we can help you. Our dental office is updated with the latest in dental technology and state-of-the-art equipment so that we can provide the safest and most effective dental care to our patients.
Cosmetic, Family and Restorative Dentistry
Dr. Qureshi helps patients feel at ease during their dental procedures. Whether you are in for a routine dental cleaning or you need major restorative dental work, we can help you relax. We offer a warm atmosphere, a friendly staff as well as options in sedation dentistry when needed. Dr. Qureshi can treat all aspects of your smile with the personalized attention you deserve.
The services we provide at our office in Alexandria VA include:
• Teeth whitening
• Dental veneers
• Vivaneers
• Dental crowns
• Tooth fillings for cavities
• Dental Implants
• Sedation dentistry
• Invisalign
• Gum disease treatment / Periodontal work
• Treatment for TMJ problems
• Emergency dental care
• Pediatric dentistry
• Dentures
• Geriatric dentistry
• Root canals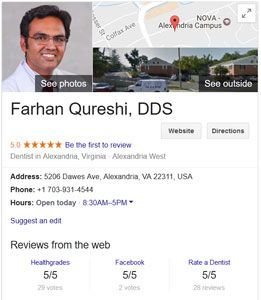 Dental Services near Bailey's Crossroads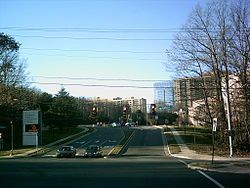 Your entire family is in good hands with Dr. Farhan Qureshi. We use a caring approach with our patients and listen carefully to your dental concerns and goals. You will also find that we offer ways to make your dental care more affordable. Choose from a variety of flexible payment plans to finance your dental implants, veneers, crowns or other procedure.
Contact our office today to learn more our family dental care near Bailey's Crossroads. Dr. Qureshi is an experienced dentist who understands what your family needs to smile more confidently.
Need directions? Here's how to get to our office traveling from Bailey's Crossroads.