We understand the value in having a trusted and caring dentist for your family in Falls Church. You will find that Dr. Qureshi has designed our practice to treat patients of all ages, with services available to address the unique dental needs of children through senior adults. For over a decade, Dr. Qureshi has shown a commitment to helping patients achieve and maintain a healthy, beautiful smile.

​​​​​​​Your comfort is our priority. We have a staff of friendly and compassionate dental professionals who are ready to listen to your dental concerns and desires. Dr. Qureshi proudly offers sedation dentistry options for patients who need help relaxing during their appointments. We strive to make your dental experience comfortable and rewarding, regardless of the reason for your visit.
Cosmetic, Family and Restorative Dentistry
If you live in Falls Church or the surrounding area, we invite you to take advantage of our complete menu of dental services, including cosmetic, family and restorative dentistry. Whether you need to maintain healthy teeth and gums, restore damaged teeth or gain a full smile makeover, Dr. Qureshi can help you. Our office is equipped with state-of-the-art dental technology to streamline the following services:
• Dental Cleanings & Checkups
• Root Canals
• Dental Veneers
• Tooth Whitening
• Invisalign
• Dental Implants
• TMJ Treatment
• Custom Mouthguards
• Snore Prevention Devices
• Emergency Dental Care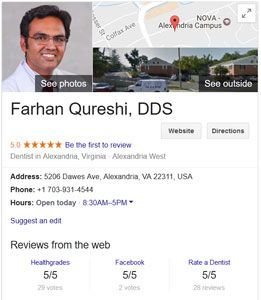 Your entire family is in good hands with Dr. Farhan Qureshi. We treat each patient with a personalized treatment plan and caring approach. You will also find that we offer ways to make your restorative and cosmetic dental care more affordable. Choose from a variety of flexible payment plans to finance your dental implants, veneers, crowns or other procedure.

​​​​​​​Contact our office today to learn more our family dental care near Falls Church. Dr. Qureshi is a reputable dentist who understands what your family needs to smile best.