Dentist in Old Town Alexandria VA
At Faran Qureshi, DDS, your family's oral health is important to us. We offer a full range of family dental services for patients who live in Old Town. Dr. Qureshi is a skilled and gentle dentist with expertise in addressing the unique dental concerns that patients face at various stages of life. From pediatrics to geriatrics, our team can handle every aspect of your smile. It is our goal to give patients the healthy smile they need and the beautiful smile they deserve.
Cosmetic, Family and Restorative Dentistry
From the moment you walk in our doors, you will realize that your comfort is our highest priority. Whether you are in for a routine dental cleaning or getting dental implants to fully restore your smile, we will work had to ensure you stay comfortable and relaxed throughout your procedure. Dr. Qureshi also offers sedation dentistry using oral sedation and nitrous oxide. We utilize the latest dental technology to carry out safe and effective services in cosmetic and restorative dentistry.
Dental Services near Old Town
If you live in Old Town, your family's most trusted dentist is just minutes away. We look forward to helping you smile with confidence through all stages of life.
The services we provide at our office in Alexandria VA include:
• Teeth whitening
• Dental veneers
• Vivaneers
• Dental crowns
• Tooth fillings for cavities
• Dental Implants
• Sedation dentistry
• Invisalign
• Gum disease treatment / Periodontal work
• Treatment for TMJ problems
• Emergency dental care
• Pediatric dentistry
• Dentures
• Geriatric dentistry
• Root canals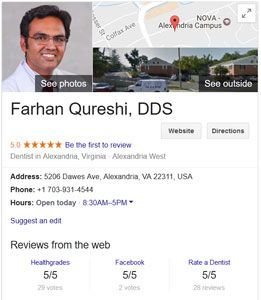 Contact our office today to schedule an appointment or learn more about family, restorative or cosmetic dental services near Old Town. Our office is accepting new patients and we offer affordable financing plans for you convenience.
Want to know how to get to our office? Here's directions to get to our office from Old Town Alexandria.