Dentist in West End Alexandria VA
At Faran Qureshi, DDS, we believe that family dental care should be a positive, comfortable and rewarding experience. Dr. Qureshi is the dentist you can trust with your entire family in West End. We offer excellence in pediatric dentistry as well as specialized dental services for senior adults. Regardless of your age or the specific dental concerns you have, we strive to make your appointment as relaxing as possible. Dr. Qureshi takes time with each patient to fully explain treatment goals and procedures, and he also offers sedation dentistry to those who need it.
Cosmetic, Family and Restorative Dentistry
When learning about our cosmetic, family and restorative dental services, you will realize that our dental care is all-inclusive. Dr. Qureshi is equipped with the talent and expertise to treat all aspects of your smile. Whether you have damaged teeth, gum disease or want to straighten or whiten your smile, we have procedure options just for you.
The services we provide at our office in Alexandria VA include:
• Teeth whitening
• Dental veneers
• Vivaneers
• Dental crowns
• Tooth fillings for cavities
• Dental Implants
• Sedation dentistry
• Invisalign
• Gum disease treatment / Periodontal work
• Treatment for TMJ problems
• Emergency dental care
• Pediatric dentistry
• Dentures
• Geriatric dentistry
• Root canals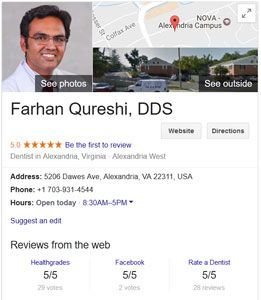 Dental Services near West End
For top quality dental care with a personalized approach, contact Dr. Faran Qureshi. Our practice is currently welcoming new patients and we would love the opportunity to care for your family in West End. We offer flexible payment options and financing plans to help you afford the dental care you need and desire. Contact us today and let us help you attain a more healthy and attractive smile.